Strategic Analysis of IKEA in Indian Market
1.0  Introduction
IKEA is a Swedish multinational company involved in the designing and sale of furniture products that can be readily assembled. It also provides other valuable products and services. It was formed in 1943 by Ingvar Kamprad. Since 2008, the company has maintained the top most position in furniture retailing. India is one of IKEA's international markets. With an annual growth rate of more than 7%, India is forecast to become a $5 trillion economy by 2025, rendering the Indian furniture industry a billion-dollar prospect. By the end of 2023, the Indian furniture industry is estimated to have grown to over $27 billion (Research and Markets 2019). IKEA opened its first store in Hyderabad in 2018, after operating in India for 30 years and conducting comprehensive market research for 6 years. Currently, the company has an online presence in Hyderabad, Pune, and Mumbai, and a second store is under construction in Mumbai.
1.1 Mission
            To offer a diverse range of well-designed, functional home furnishings at prices so low that they are affordable to as many people as possible.
1.2 Vision
            To improve the quality of living for a large number of people.
1.3 Scope
            IKEA has been sourcing materials and establishing partnerships with various forestry organizations in India for more than 30 years. IKEA opened the first retail store in Hyderabad in 2018, and it was the first of its kind in the furniture retailing industry. Ikea is still expanding in India two years after its initial operations. At present, the company has an online presence in Hyderabad, Pune, and Mumbai, and a second store is under construction in Mumbai.
1.4 Strategic Statement
To design and develop products that meet the needs of daily customers while keeping costs down and offering functional, appealing, and dependable furnishings and services.
2.0 Strategic Issues
2.1 Socio-Cultural Factors
            IKEA's business model is focused on do-it-yourself (DIY) furniture, with no distribution or assembling facilities. This concept could not work in India for several reasons. First, the DIY culture does not exist in India due to the abundance of low-cost labor. Second, the ownership of vehicles in India is much lower than in the Western countries, and most of the people in the middle class do not own vehicles that are capable of transporting furniture (Alenezi 2019). Another explanation is that most people, especially the low-and-middle income category choose to decorate their homes with conventional furniture rather than modern furniture trends.
IKEA devised a strategy to assist shoppers learn how to assemble their DIY products since the idea of DIY furniture was new in the country. IKEA partnered with UrbanClap to make the furniture assembly operation easier. IKEA also provides training to the UrbanClap carpenters in order for them to improve their skills in IKEA assembling.
2.2 Porter's Bargaining power of Buyers
In the case of IKEA, buyer bargaining power refers to customers who use the company's products or services. When buyers have a lot of purchasing power, they appear to push prices down, restricting IKEA India's ability to make long-term profits.
Other aspects that raise a buyer's purchasing power are recognized by IKEA. The Indian customer has a lot of negotiating power because of their price sensitivity and awareness, as well as their industry knowledge and habit of buying standardized goods in large quantities (Yadav 2020). Therefore, IKEA must provide higher quality products, superior customer service, and affordable costs for their home furnishings and restaurant services.
2.3 Internal Analysis
            An internal analysis examines a company's competence, cost positioning, and strategic competitiveness in the marketplace. IKEA's entry into India was facilitated by several key competencies, cost advantages, and competitive advantages that the company has. Ikea's biggest competency is its financial strength IKEA was the fourth most profitable retailer in the world in 2020, and the most valuable retailer in the furniture retail sector, with a market capitalization of almost $48.1 billion (IKEA Annual Report 2020). Another advantage is that IKEA's products are inexpensive and have good value for money. Furthermore, IKEA is constantly researching and innovating in order to keep lowering costs for consumers while still expanding their furniture portfolio. Ikea, is a savvy marketer with excellent product positioning in film and on Tv. With these competencies, IKEA was able to penetrate India with a $US 1.9 billion foreign direct investment. IKEA continues to design products that fit the criteria of the Indian consumers.
3.0  Forecast approach
Forecasting makes use of the historical data as inputs to produce well-informed predictions about the course of future trends (Institute of Chartered Accountants 2010). If IKEA was to be truly competitive, it would have to place more emphasis on after-sales assembly services instead of the do-it-yourself (DIY) culture that it uses in the Western countries. Financial analysts and executives from other furniture firms acknowledged that IKEA's entrance would be valuable to the Indian market.
India's indoor furniture industry expanded at a 10.9% CAGR between 2012 and 2017, and was expected to expand at a 3.8 % CAGR between 2017 and 2022 (EuroMonitor International 2019). According to a World Bank report, India's coordinated furniture market was forecast to expand at a rate of 20% on an annual basis all through several years, exceeding $32 billion by 2019 (Goel & Garg 2018).
According to IKEA India's senior executives, a great deal of research and commitment went into the Glocalization of the international brand IKEA in order to grab the attention of Indian customers. The store's resounding success is a potent for the company's optimism, as it expects to grow to 25 store locations in India by 2025.
4.0 Scenario Analysis
Scenario analysis is the examination and evaluation of the potential events or scenarios that could happen in the future and the prediction of various feasible outcomes (Johnson & Scholes 1999). As the largest global retailer of home furnishings, IKEA managed to open its first Indian store on 9th August 2018. IKEA's successful entry into the Indian market is grounded on the the relaxation of the foreign direct investment policy that allowed foreign companies to own and operate retail stores, which cleared way for IKEA to enter the market
Ikea had ambitious plans for the Indian market. It prepared to invest $1.5 billion in India's economy, that had experienced massive growth over the past few decades. Before that, IKEA had already spent approximately $750 million in the procurement of stores like the Hyderabad store. IKEA spent 6 years conducting comrehensive market research to understand the Indian market and gain knowledge about the best products and services that would suit the market. Before the opening of the large Indian store, the last 6 years were spent seeking approvals from Indian regualtory authorities (Sridharan 2018).
IKEA boasts of 48 suppliers and 6 million customer visits on an annual basis in the Indian market. In the first year of operation, the Swedish furniture giant invested around Rs 1 billion. IKEA's plans to extend its operations by opening more Indian stores in Chennai, Pune, Delhi, Bengaluru, and Ahmedabad. Currently, there is another store under construction in Mumbai. Despite IKEA's success in India, there are possible future challenges in navigating local market including finding space for large stores, developments and changes in customer needs and tastes, and the challenges with the do-it-yourself culture that requires clients to assemble their own furniture among others.
5.0  Industry Analysis and Industry Life Cycle
In an industry, different companies may be at different life cycle stages based upon the time they entered the industry. The industrial life cycle helps companies to better understand the growth and change of sales over time (Cubico, et al. 2018). Using industrial analysis and industry life cycle, it is possible to understand the various stages where IKEA operated, progressed, and slumped within the Indian market.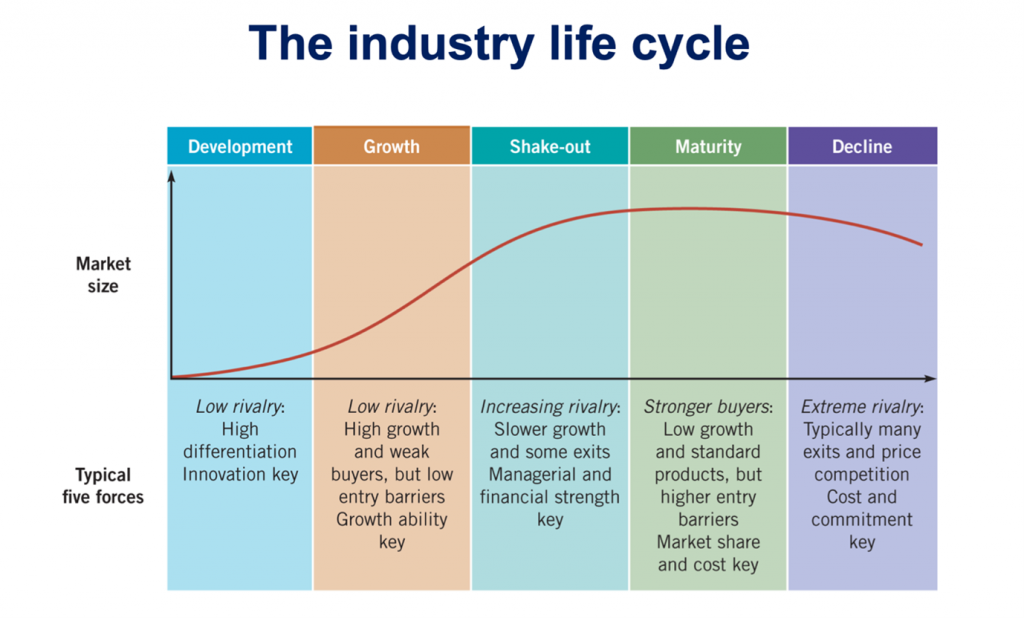 IKEA's industry life cycle began with the development phase. This involved the company conducting research about the Indian market and making more than 1000 visits to the Indian homes. The main purpose was to assess the Indian market and determine the needs of the local customers. Through strategies such as innovation and differentiation, IKEA was set to launch its operations in India through production and proliferation of its new products and services designed for the Indian market (Bereznoy 2019). Consumers of these products and services were taught more about these products, and at this point, the market was highly fragmented with low revenues. By the time IKEA launched its first store in Hyderabad, the customers in the Indian market had understood the value of the company's new products, and demand was growing rapidly. There were low entry barriers and the company had a high growth ability.
At present, IKEA is experiencing the growth phase of industry and product life cycle in the Indian market. A number of important players are becoming apparent in the industry, and are rivalling each other to increase their market share (Debobroto 2020). IKEA is improving its business processes and geographical expansion with an online presence in Hyderabad, Pune, and Mumbai, and a second store under construction in Mumbai. The store's resounding success is a potent for the company's optimism, as it expects to grow to 25 store locations in India by 2025 (IKEA 2021).
6.0 Critical Success factors (CSFs), Blue Ocean Strategy- Strategy Canvas Map
Through market research, IKEA has been able to achieve success in terms of franchising. Before entering the Indian market, IKEA had invested a lot of time and resources in market research. Also, IKEA succeeded due to its connection with suppliers such as those who supply raw materials for the manufacture of home furnishings. This facilitated a sustainable mutual association with the suppliers so that the needs of customers would be addressed effectively (Singh & Rao 2021). Another CSF is product pricing. IKEA's aim was to reach as many customers as possible. Therefore, it sets its price at a significantly lower level than its Indian rivals.
The Blue Ocean Strategy explains the creation of new, uncompetitive markets by a company so as to make its rivals irrelevant, create new customer value, and decrease costs (Alam & Islam 2017). While entering the Indian market, IKEA's target was the middle class. It wanted to trade its products for low prices and establish a cost-efficient supply chain to make the transportation and delivery of products easier (Yang & Nanxiang 2019). These strategies were meant to make competitors such as Peppefry irrelevant. IKEA was also interested in learning the living styles and needs of the India customers to help them create better products in that market.
7.0 Resources & Capabilities Analyzing
A company's competitive advantage and principal driver of profitability are its resources and capabilities. Resources and capabilities enable the organization to grow and compete with its products and services that meet the needs of consumers (Needles, et al. 2007). IKEA has different resources and capabilities that have empowered it to drive its business and counter competition in different global markets, such as the Indian market.
7.1 Unique Resources
Tangible
Tangible resources are resources that can be physically seen. IKEA's tangible resources include land, property, plants, equipment, raw materials such as cotton, wood, food, and waste, 446 stores in 52 countries, 1 Indian store in Hyderabad, and one under construction in Mumbai, and 28 distribution centres in 16 countries (IKEA, 2021).
Intangible
Intangible resources are those that do not exist in form. IKEA's intangible resources include IKEA's trademarks, culture, concepts, reputation, innovation, and brand name (IKEA, 2021).
Human
Human resources are the people who make up the workforce of a company. IKEA's human resources include 220,000 workers (45, 000 being in India), 1800 suppliers in 50 countries (48 from India) (IKEA, 2021).
7.2 Unique Capabilities
Using Porter's Value Chain analysis (1985), IKEA's unique resources or core competencies that enable it to compete in the market can be analysed. For IKEA, inbound logistics relate to the purchase of raw materials and manufactured products from about 1800 suppliers worldwide, with 48 of them being in India. Its operations are centred on franchising, but there are other divisions such as property and finance. Its outbound logistics involve storage and distribution of ready products from 446 stores in 52 markets to customers. IKEA's marketing and sales policy includes print and broadcast ads, sales promotion, public relations, and direct marketing strategies. Finally, customer support involves providing online and telephone customer service, feedback, the provision of discounts, and exchange of products (Al-Zghool 2020).
8.0 Culture and Cultural web of IKEA
IKEA is one of the world's largest furniture retailers, and its innovative corporate culture and values are shared by all employees. Over the past 30 years, IKEA has had a presence in India. An evaluation of the historical culture reveals that corporate leadership and management were concerned with long-term viability. Purpose, recommendations, and collectivism are all built on values and principles that make up organizational culture (Johnson, Scholes & Whittington 2005). IKEA realized that it could produce a high-quality product at a low cost by focusing on product differentiation through advertisement, selection, logistics, and store operations.
Johnson's cultural web is a tool for comparing the cultures of various companies, displaying the progression of a specific initiative, and measuring the difference between a company's present culture and its ideal culture in future (McDonald & Foster 2013). In the case of IKEA, there are assumptions that people take for granted such as low and affordable pricing, high quality of products, and unique shopping experience. IKEA's symbols are reflected through its simplistic Swedish styles in its home furnishings and style of work. Stories from IKEA's employees are synonymous in the spirit of togetherness and enthusiasm because the company's vision is "To improve the quality of living for a large number of people" (IKEA 2021).
9.0  Competitive advantage
In India, IKEA's competitive advantage stems from its ability to match its unique capabilities to industry CSFs. Core competencies help IKEA stand out among customers and create a distinct image in their minds. IKEA delivers at-pack furniture, which is a unique feature pf the company, to save expenses in packaging and transportation while keeping prices low (Ivarsson & Alystam 2020). IKEA has a reputation for creative and futuristic design, which has seen it become a globally recognized furniture brand (Mishra & Gupta 2019). It enables it to adopt locally and establish partnership with suppliers through manufacturing. IKEA's unique resources also add to its ability to become more consumer-eccentric. It also has partnerships with around 1800 suppliers globally, and this is considered as a unique resource for IKEA's cost effectiveness.
10.0 Porter Generic
To deliver products to their consumers, IKEA employs a low-cost approach. Ikea places a strong emphasis on cost-cutting in order to minimize organizational spending and have a lower price to consumers. A low-cost pricing approach is one in which a company pays a comparatively low price in order to increase demand and increase market share (Blokdyk 2018). In most cases, traditional consumers are responsible for assembling the items they have ordered. IKEA, on the other hand, allows shoppers to save money by assembling their own goods. Furthermore, they do not have a large number of salespeople, instead allowing consumers complete autonomy in selecting products from their stores (Jia, et al. 2019).
Several key factors allow IKEA to maintain its cost leadership strategy. These include competitive approaches to cost cutting in design for manufacturability, competitive procurement capacity at lower prices, a long history of practicing unique business models, and a customer-centric culture that helps them sustain cost leadership in the furniture industry (Nandamuri 2020).
11.0 BCG growth/share Matrix
The growth-share matrix of the Boston Consulting Group (BCG) is a strategy technique that uses schematic representations of a company's products and services to help the company determine whether to retain, sell, or spend further in. The matrix depicts a product offering as dogs, question marks, stars, and cash cows in a four-square matrix. The rate of market growth is represented on the y-axis, while market share is represented on the x-axis (Milano 2015).
Despite fierce rivalry, IKEA has maintained its leadership status attributable to its marketing strategy. It consistently responds to shifting social trends and patterns, and makes every effort to meet customers' needs in a similar manner (IKEA 2021). The BCG matrix analysis of IKEA products in the Indian furniture industry is represented below.
Stars

Assembled furniture contributing to high market share along with high level of growth rate.

Question Marks

Textile products with high growth level but the market shares are relatively low.

Cash Cows

IKEA'S food industry, home appliances, restaurants, and other appliances, with low market growth with high level of market share.

Dogs

Children toys, with low market share and low growth level.
                               High                                                                                 Low
Relative Market Share (Cash Generation)
12.0 Stakeholder Mapping: The Power/Attention Matrix
The visual method of mapping out all of the stakeholders of a product, initiative, or concept on a single map is known as stakeholder mapping (Whittington, et al., 2019). The main advantage of an IKEA stakeholder map is that it can have a visual overview of all the individuals who can control the company's projects and their connection.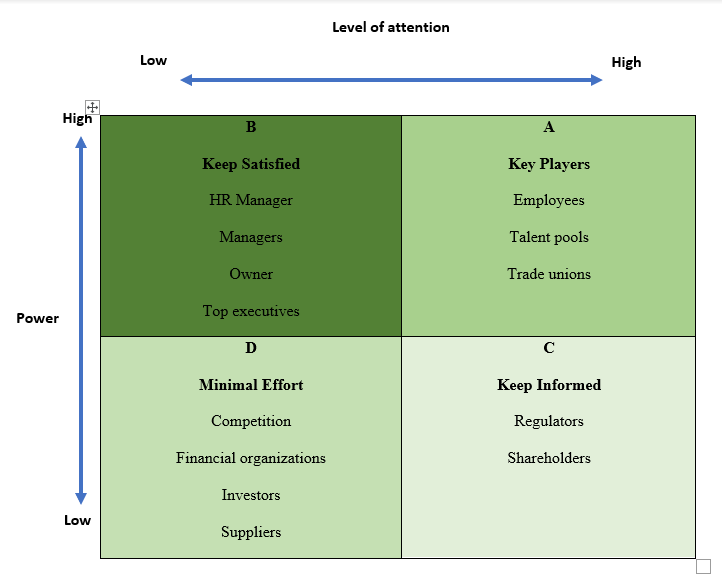 Stakeholder Mapping: The Power/Attention Matrix
B

Keep Satisfied

HR Manager

Managers

Owner

Top executives

A

Key Players

Employees

Talent pools

D

Minimal Effort

Competition

Financial organizations

Investors

Suppliers

C

Keep Informed

Regulators

Shareholders
The SAF framework strategy ensures that an organization's strategy decision is implemented. The SAFE structure will be used to assess the suitability, feasibility, and acceptability of IKEA's strategic options currently and in the future as the company grows is operations.
Suitability
·         The strategy addresses the key opportunities and threats faced by IKEA. It allowed IKEA to gain new markets through the acquisition of new groups of customers. IKEA more gained more market share by existing into the already existing markets.

·         By putting more resources into market research for 6 years, IKEA understood consumer trends and patterns that enabled it to open its first store in India.

Acceptability
·         The strategy exceeded stakeholder expectations.

·         The strategy's level of risk and likely return are both acceptable.

·         The strategy raised no investment risk, and financial forecasting and scenario analysis indicated a possible increase in sales, indicating that it was likely to receive positive feedback from stakeholders.

Feasibility
·         The strategy is highly feasible because the resources required to implement it are available, can be developed, and can be obtained as indicated by IKEA's resource and capability analysis.

·         In the Indian market, IKEA has adequate time, customers, funding, and information to achieve its mission and long-term goals, and improve its competitive advantage.
14.0 Report Conclusion
IKEA has consistently embodied its mission by dynamism and a well-defined strategic approach, all while keeping an open mind about its external and competitive environment. After conducting market analysis to determine local needs, the company entered the Indian market. IKEA's success is built on its ability to serve a large number of customers at affordable costs and still using competitive business practices to benefit people and the environment. This is the same technique that the Swedish global furniture conglomerate used when it first set up a store in India. Its effective partnerships with Indian suppliers are contributing to its success as the company is in the growing phase in the Indian market.
Appendices
Appendix 1: Porter's Five Forces
| | |
| --- | --- |
| Supplier Power | Low bargaining power of suppliers. IKEA reduced supplier power to avoid being disrupted and to achieve a competitive edge. Its supplier base is decentralized and has more than 1800 suppliers in 52 countries (48 suppliers are in India). Suppliers are also expected to adhere to IKEA's code of conduct. |
| Competitive rivalry | High competitive rivalry. IKEA's main market is flooded with competitors like Peppefry and Wayfair, among others. However, through its low-cost strategy, IKEA has been able to withstand fierce competition over the years. |
| Threat of Substitution | There are no real substitutes to the furniture and home furnishings. IKEA has remained top of competition in the Indian Market through its low and affordable cost approach and high-quality products and services. Even though competitors match IKEA's low-price strategy, their services might not match IKEA's quality and functionality. |
| Threat of New Entry | Low threat due to the fact that IKEA invested intensively in the Indian market, which makes it difficult for other companies to outcompete it. Also, Indian furniture market is currently saturated. |
Appendix 2: Pestle Analysis
| | |
| --- | --- |
| Political Factors | Political climate, foreign policies, party ideologies such as UPA government's foreign direct investment policy. IKEA agreed to invest in India by opening its first store in August 2018. Agreed with the policy requiring foreign companies 30% or more of their raw materials in India. |
| Economic Factors | IKEA's low and affordable prices are ideal for consumers during a financial crisis. IKEA observes different monetary policies and considers factors such as cost of living and interest rates when setting its prices |
| Technological Factors | Research and Development automation, technical benefits, and the pace of technological transition are all factors to consider. They have an effect on admission, the minimum effective output cost, and outsourcing decisions. Furthermore, technical changes may have an effect on prices, efficiency, and innovation. |
| Environmental Factors | Energy and climate pollution issues, factory location policies, India's attitude to IKEA's CSR. |
| Legal Factors | Health and Safety Laws, standardization issues, compliance with national laws and regulations, compliance with international conventions, protection of fundamental human rights. |
Appendix 3: Ikea's Strategic Value Chain Analysis
| | |
| --- | --- |
| Firm Infrastructure | IKEA has strong corporate governance processes in place around the board. The company's operations are carried out through its vast stores and franchisees. |
| Human Resource Management | The organization is dedicated to good human resource practices, which it does through the proactive administration of consistent personnel training and development (IKEA Annual Report 2020). |
| Technology Development | IKEA conducts research and development in order to reduce costs and provide low-cost premium products to its consumers. |
| Procurement | IKEA has decentralized sourcing processes in place for a large number of suppliers. IKEA has partnered with local suppliers and societies in which it operates. |
Appendix 4: Cultural Wed Of Ikea
| | |
| --- | --- |
| Stories | The stories of IKEA founder's (Ingvar Kamprad) entrepreneurial mindset and his involvement with IKEA are used to support its culture. |
| Symbols | IKEA symbols are comprised of simple language, logo designs, and words. They represent the company's heritage in its diversification strategy. |
| Rituals and Routines | IKEA is strong believer keeping customers close. Its routine way of store operation is keeping them people-friendly. There is informality in IKEA's work environment, allowing employees to make decisions on what to dress. The environment is also friendly with open plan floors. |
| Power Structures | In IKEA, the egalitarian leadership style is dominant, hence the belief that all individuals are created equally and deserve equal treatment. |
| Control Systems | IKEA's culture puts a focus on employee evaluation and satisfaction. IKEA's flat structure inspires and motivates employees, resulting in excellent outcomes that contributes to the its differentiation strategy. |
| Organizational Structures | IKEA's organizational structure is not hierarchical. There is open communication between the top managers and the subordinates. Customers are not inconvenienced by the low and affordable prices. |
Appendix 5: Porter Generic Strategy
| | |
| --- | --- |
| Low-Cost Focus | Selling similar products as other companies like Peppefry, IKEA lowers its prices to raise revenue and gain an edge over the rivals. Products and services are provided with high quality. Low price attracts many customers, especially from the low-and-middle classes. Production and operation costs are kept low to maintain prices low. |
| Differentiation | IKEA innovates ways for Indian customers to purchase its products. Hyderabad store is unique with unique IKEA symbols and styles. |
| Differentiation Focus | Unique features in products to fulfill the demands of the Indian market. Concentrates particularly on providing choices and suggestions to customers for room decorations, to capture their attention. |
Appendix 6: Ikea Summary in The Past Year
In spite of the COVID-19 pandemic, IKEA achieved a solid financial performance for the fiscal year 2020. With the commencement of lockdowns, the company implemented measures to mitigate the adverse effects of the pandemic and decrease operational expenses. IKEA's net income was €1,731 million (IKEA Annual Report 2020). The income statement below illustrates its fiscal performance for the year 2020.
Consolidated Income Statement
 Million €
FY20
Sales of goods
22,387
Franchise fees
1,162
Other income
64
Total Revenues
Cost of goods sold
18,860
Gross profit
4,753
Operational cost
2,529
Total Operating Income
2,224
Financial income and expense
-201
Total income before taxes
2,023
Income taxes
-295
Results from the sale of entities
3
Net Income
1731
Appendix 7: The Directional Policy (Ge–Mckinsey) Matrix
| | | |
| --- | --- | --- |
| Invest | Invest | protect |
| Invest | Protect | Harvest |
| Protect | Harvest | Divest |
Business Unit Strength, from high to low
Ge–Mckinsey matrix is used by companies such as IKEA to evaluate their business portfolios and make priorities for investing among various company units in a systematic way (Whittington, et al. 2019). IKEA's business units include home furnishings, franchise, range, supply, storage, and organization. Using the Ge–Mckinsey matrix, IKEA looks to a great extent at product strategy and its planning roadmap. The competitive strength of the unit determines how well it will perform against competitors, while the industry attractiveness determines how straightforward it would be for the firm to generate profits and compete. It is an effective tool for presenting a visual rundown of IKEA's brands. IKEA prefers the GE/McKinsey matrix because it is more fine-grained and employs more positioning parameters than the BCG matrix.
Appendix 8: VRIO Analysis
The VRIO framework analyses the strength and weakness of a company using an evaluation of the company's internal resources and capabilities that comprise its business activities. Their value, rarity, imitability, and organizational applicability are assessed to determine the company's competitive potential in a particular market. The application of VRIO in IKEA in the context of the Indian market is summarized in the table below.
| | | | |
| --- | --- | --- | --- |
| Valuable | Rare | Inimitable | Organization Applicable |
| YES | YES | NO | YES |
| IKEA's low-cost strategy, unique shopping experience, customer-eccentric services, and effective stocking and storage of goods differentiate it from its competitors. | In IKEA's industry, it is rare to find another company like IKEA that has a combination of high quality, unique shopper experience, low-price, and customer-eccentric services. Moreover, the human resource capital and experience are rare all over the world. | Competitors are always behind in terms of experience, and some competencies like brand value may not be imitated. However, if rival companies have the correct combination of skills, time, and money, they can imitate IKEA's shopper experience in the long-term. | IKEA has a strong presence and brand recognition in India, that has helped it to succeed so far. The company is hyper dynamic in managing the Indian culture because it understands the needs of the local customers. It also has 48 suppliers within India who are its long-term mutual partners. |
Appendix 9: Stakeholder Mapping
Stakeholders are individuals who have an impact on an organization's decisions, either directly or indirectly. Companies must understand the role of stakeholders because they are a valuable resource to them. The stakeholders of IKEA are represented below based on the interests they represent and the amount of power they possess.
| | |
| --- | --- |
| Stakeholder Category | Explanation |
| High Power, High Interest | Shall be closely involved and informed. Examples are top executives, human resource manager, managers, owner. |
| High Power, Low Interest | Shall be kept satisfied. Examples are employees, trade unions, target pool of talent. |
| Low Power, High Interest | Shall be kept informed. Examples include shareholders and regulators. |
| Low power, Low Interest | Shall be only involved with minimum effort. Examples are investors, financial, institutions, competition, and suppliers. |